Many companies related to the Travel and Tourism sector are revamping their websites generally every 2-3 years. There are a few important considerations which need to be factored in when redesigning a website for your business. One of the key ingredients of the web redesigning strategy is the emphasis placed on mobile traffic to your site.
(Photos taken in two decades apart in Vatican clearly show how global population is experience the world through mobile).
In web design antiquity (a few years ago), designers and developers created the best website they could for desktops. This made perfect sense — desktop was the overwhelming touchpoint. But with mobile users set to overtake desktop users in 2014, mobile simply can no longer be an afterthought. Mobile first is the best preparation for the exploding universe of devices, not to mention the time and cost of future redesigns.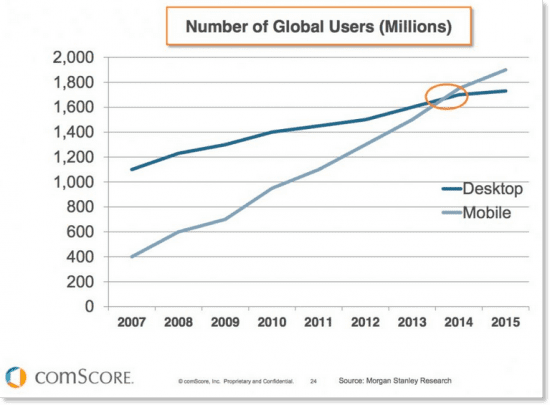 The concept of mobile first design is as simple as it sounds. Putting it into action, however, is complicated. Mobile first requires a rethink of the design process, and this can make it a difficult decision. The good news is that the benefits are clear, and they make the decision to go mobile first a no-brainer.
Mobile first design is an approach outlined in 2009 by Luke Wroblewski. Put simply, mobile first is an approach to responsive design: design for smaller screens first, then add more features and content for bigger and bigger screens.
The best design focuses on delivering what's essential. That's much easier said than done, of course, especially when you're squeezing features and content onto a small screen. But if you understand the importance of mobile, you must make these decisions at some point anyway. Left to the end of your process, they are more likely to be watered-down or forgotten. Get these tough decisions out of the way first, and the rest of your process will be a (relative) breeze.
Users expect a new level of performance and function on their mobile devices. On a small device with low bandwidth there isn't much room for error, so these factors need to become priorities. Too much data — even a split-second's worth — can have a dramatic impact on load time. Focusing on mobile first ensures that you optimize the data sent, and allows time to incorporate popular mobile features like touch and geolocation.
www.srilanka.travel is the national travel portal which is operated by Sri Lanka Tourism. The traffic to the site is over 5000 users per day from various parts of the globe and It sees an average of 65-70% traffic generated by mobile devices.
With every new device and mobile statistic, mobile first design makes more sense. It's a tough transition to make, but ultimately you and your users will be benefit going forward.
What are your thoughts on Mobile First Design?
About the Author;
Udana Wickramasinghe,
Director of ICT- Sri Lanka Tourism